It can be challenging to find romantic songs to sing that are easy to sing.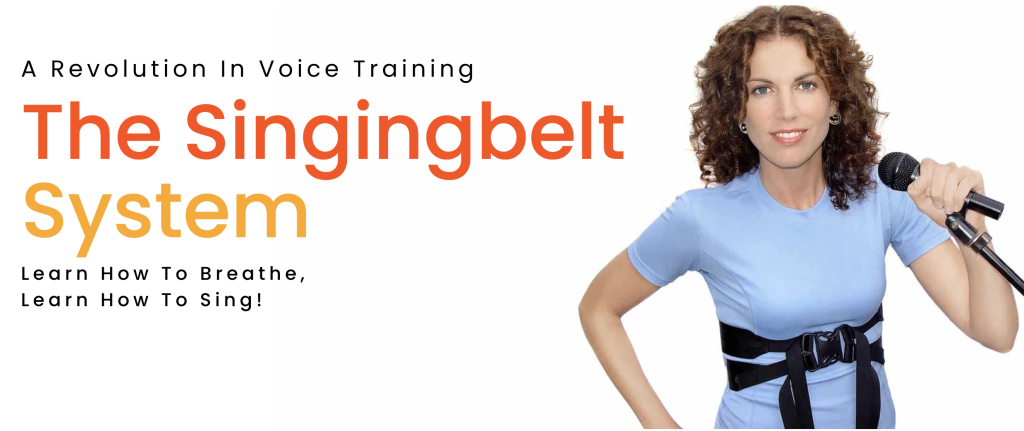 However, winning over the hearts of those you love through poetry and song is ancient and we wouldn't have a population problem if so many hearts had not been sent a patter by a good love song. Whether it's for Valentines Day, a marriage proposal, or a love song you want to sing at your wedding, learning how to sing it can be an enormously generous act of love, and one that generally stands a great chance at working. (As my friends know, it worked on me. )
If you're not a trained singer, the secret to success in singing a love song to your beloved — is to pick a song in your range that stays within an octave, or an octave and a half without long, soaring notes that need to be sustained and to find the right key to sing it in.
I wouldn't try to run a marathon without seriously training, but I could probably make it through a 10K. We can apply the same concept for untrained vocalists. Don't pick "I Will Always Love you," "Firework," or "Sarah Smile." They're vocally acrobatic even for professional singers. Enchant and lure your love without straining your throat or bystanders' ears by picking a love song that is easy to sing.
I went through as much material as I could in a limited amount of time. Although I know I'll have many additions to this list, Valentine's Day is two days away, and someone might need this now, so here's my list for 2013 Top Ten Love Songs That Are Easy To Sing!
I looked for love songs that were not too overplayed (except for two), that were works and expressions of love without hesitation in the lyrics (no I love you, buts, or I love you, please don't hurt me — that's not the love song you want to sing to your fiance, husband, wife, boyfriend or girlfriend celebrating your affections), and most importantly, songs that can be sung even if you have a little trouble carrying a tune. I know I am missing something obvious, but there's five bonus tracks here on the top 10. Before you get started, you may want to follow along with a couple of vocal warm-up videos online. Make sure you figure out what key is best for your voice, and if you're going to sing it a cappella, use a pitch pipe or you can use a tone generator on a free chromatic tuner app, insTuner), so you don't start too high or too low.
Top Ten Love Songs That Are Easy To Sing For Valentine's Day 2013
In no particular order:
"Too Shy To Say": Stevie Wonder (Perfect love song that's easy to sing.)
"How Can I Tell You": Cat Stevens (Another, perfect love song that's easy to sing.)
"Into My Arms" : Nick Cave (We used this one as the first dance as husband and wife at our wedding.)
"Come Away With Me": Norah Jones (I know this was played a lot ten years ago, but it's been awhile, as long as you haven't been over listening to Pandora, it's a beautiful love song that's easy to sing.)
"Falling Slowly": Glen Hansard (95 percent of this song is easy to sing, if the falsetto part on "time" at the end of the chorus is a little out of your range, you can modify it and just sing it as the same note as the word before, which is "got;" same with the last word of the chorus. The song works without the jump in melody.)
"First Day Of My Life": Bright Eyes (This is a perfect song, especially if you're more of a talker than a singer when you sing. It's a great wedding song, and it's got a sweetness and sincerity that grabs your heart without being syrupy. I think the simple sweetness of the melody is what might make it easy for someone who's generally macho be able to pull it off.)
"Time After Time": Cyndi Lauper (This one has a twinge of sadness and longing in it, bending one of the qualification rules a bit, but the chorus so strongly makes ever-dying devotion clear, I think it's still a contender for Valentines Day, though maybe not a wedding song. The only tricky part in the melody is when she riffs on "I will be waiting," at the end, but you can change it, you don't have to make the riff a high one.)
"A Thousand Years" : Cristina Perri (This is a beautiful love song that's easy to sing.)
"All Of Me": Gerald Marks & Seymour Simons (Extremely famous, but some of us, might want something that stirs the heart with a bit of history.)
"I Want To Comfort You" or "Crazy Love" -:Van Morrison ("I Want To Comfort You" is less common than "Crazy Love." If you pick "Crazy Love," which is a classic and easy to sing, you might consider putting it in the second person, instead of the third, though, I'm usually against that, it works on this song. "I can hear your heartbeat," "you give me love," instead of "I can hear her heartbeat" and "she gives me love… " Also, it makes the song gender neutral. This is great if you want something familiar, and a favorite, but not overplayed.)
"I Feel Fine": James Taylor (melodically, a little tougher in spots, maybe shouldn't be on the list for that reason, but, it's not too challenging.)
"I'm Yours" or "I'm Lucky" : Jason Mraz (These are bonus, because they are both very played, however, besides the scat, which you can skip, they're not difficult to sing, and they offer an uptempo, lighter approach to romance that may be more your style than some of the others picked so far. They're both fun, and "I'm Lucky" can be sung solo, it doesn't have to be a duet.)
"Dark Eyes": Bob Dylan (Not expected, perhaps, but I had to include it, because, if your love is deep into the deep, and happens to have dark eyes… this could be the one. It's one of my favorite love songs. It's off of Dylan's Empire Burlesque).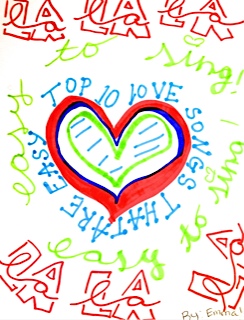 Artwork by Emma Gerson, courtesy of Emma Gerson